Photo Credit: Yanki Werthaimer – Flowers: Gabriella Shemtov
UK CHUPPAH HIRE & CHUPPAH RENTAL
Elegant – Handcrafted – Modern
The Happy Chuppah People are a Chuppah hire and production company who pride ourselves on providing a luxury Chuppah hire service at affordable prices. We offer a high quality selection of unique, stylish and contemporary Chuppahs for hire across London and the South of England (although we may travel further afield than this). Our prices start from only £385 which includes delivery, set-up and takedown. We offer both off the shelf products for hire or a bespoke Chuppah production service where we work in partnership with you to create the Chuppah of your dreams. Contact us for a free and friendly consultation. We also strive to provide an unrivalled customer experience. Our mission is to make you happy! 🙂
Did you know that our larger designs can also be used as mandaps?
The Happy Chuppah People are proud to be associated with:
"Thank you so much for everything. Our Chuppah was gorgeous. Your passion and professionalism really shine through"
L & J – September 2017
"We were absolutely delighted with the advice and service we received from The Happy Chuppah People. They were friendly but also very professional. Would highly recommend them."
E & A – October 2017
"WOW, thank you so much. The Chuppah was stunning. You and your team are amazing., I was blown away when I saw it."
H & L – May 2018
"Thank you so much for all your help. The Chuppah was beautiful and exactly how I imagined it. Thank you for all your advice, it really helped my vision come to life. Thank you a million times over."
N & S – August 2018
We cover London and the South
A unique 'Personalise It' service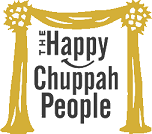 Our mission is to make you happy
Our Email
info@thehappychuppahpeople.com
Our Telephone
07850 959 145
Contact us to with your booking enquiry or questions. We would love to hear from you.
Our Chuppah hire service explained:
Bespoke production service – we can design and build a unique Chuppah just for you (POA);
Beautiful Chuppah's to rent in many different sizes;
Chuppah rental includes delivery, set-up and take down;
A portfolio of unique hand-crafted designs;
Probably the most competitive pricing on the market, starting from just £385;
Delivery to London & the South. We will travel much further (POA);
4m x 3m (£325) and 4m x 4m (£365) white, one step carpeted stages for hire;
2m wide aisle runners available (different lengths to fit your needs);
Birch arches in two different sizes;
Chuppah floristry available; and
A friendly, flexible and hassle free service where we work directly with you, your florist, your venue and/or your wedding co-ordinator.
"A Chuppah is a structure, consisting of four poles and a canopy, under which a couple stand during their wedding ceremony. The Chuppah symbolises the future home that the couple will build together and, as it is open on all four sides, also represents hospitality to their wedding guests in attendance."
The Happy Chuppah People, 2016!